The Lightning Pixie of the Green Valley Vortex
By Paul Dale Roberts, HPI Esoteric Detective
Halo Paranormal Investigations - HPI International
https://www.facebook.com/#!/groups/HPIinternational/
Paranormal Hotline: (916) 203-7503 - 4 Advice & Investigations
Email: pauld5606@comcast.net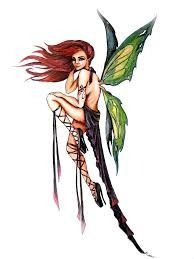 I must say I do go on a lot of investigations and I write a lot of paranormal articles. With each article is my contact information. I get text messages, telephone calls and emails constantly from people who have stories to tell or who want to know more information. Below is an email I recently received:

"Hello Mr. Roberts, my name is Howard. I guess from reading all about your investigations, you have become pretty legendary in the paranormal circus. Let me tell you about my circus act at the Green Valley Vortex. Sit back, because I kid you not, this is some real stuff. This really happened dude. I just want to let you know I did some camping at the Green Valley Vortex last year and plan to do some more camping this year. The area is definitely odd. What did you feel when you went up there? My buddy Todd and I felt very lightheaded when we walked into a certain areas where the trees were all bent over.

Todd and myself camped out there for two nights and on one night it rained and that is when some crazy xxxxx happened. We saw lightning hit a tree limb and after it hit, there was this little creature made up of the lightning itself standing on the tree limb. The creature couldn't have been no more than 4 or 5 inches high and it was made up of electricity. The creature seemed to be skipping on the limb and then jumped down to the ground and started walking around. This lightning pixie seemed to take notice of us and at one point of time, it pointed it's little finger at us and shot out a lightning bolt. The bolt did not hit us, but missed us. It hit the ground roughly 3 yards away from us.

We watched this little creature for about 10 minutes, when all of a sudden a large beam hit the little pixie and it was beamed up into the cloudy night skies. Has anyone else seen a pixie in the Green Valley Vortex or are we the only crazy people that seen xxxx like this. I know the two high school kids saw a UFO and a alien robot chased them through the woods. I guess their story would be as crazy as our story. Please let me know if you plan to re-investigate the Green Valley Vortex, because there is something truly unusual going on at this location. It may be another Skinwalker Ranch. I do believe there is a portal at the Green Valley Vortex. Would you agree?"

Howard.

An Answer from Paul Dale Roberts - HPI Fortean Investigator:

I have only investigated the Green Valley Vortex once and even though I did not acquire any substantial proof that paranormal events occur there, I would still love to go back and conduct a more thorough investigation. With as many people that claim to have experienced paranormal events in this area, I truly believe there must be some kind of explanation on why so many people are witnessing the paranormal. Yes, the Green Valley Vortex warrants another investigation.

To learn about my previous investigation, stop by this link:
http://www.ghost-mysteries.com/forum/index.php?showtopic=5035

APPOINTMENT:
5/2/2015: Lisa Aduna-Haas HR Block 8645 Elk Grove Blvd, Elk Grove

Interview with Noel Desilets, Paranormal Experiencer and Musician for the Band Ash Black.
Interviewed by Paul Dale Roberts, HPI General Manager
www.hpiparanormal.net

Question: First off tell us something about yourself. Maybe something about your family life, schools you may have attended, work that you do, etc.

Answer: Well I grew up in Tucson, AZ. I lived in the house I grew up in for most of life. My husband and I have been married for almost 18 years and we recently relocated to California to be closer to my mother. My father died about 9 years ago. As far as a job goes I work with people who are developmentally disabled and I provide home care for the elderly.

Question: You have a very interesting story. It appears that you have been experiencing the paranormal all your life, can you please explain how it started off?

Answer: Honestly I'm not sure when it started, it's just always been an interest of mine since I was little. The thought of a ghost used to scare the crap out of me. After a few up close and personal experiences, I just chose not to be scared anymore. I can control the situation or I can be bullied by these unseen forces. Not that I believe all ghosts are bullies, I've had many wonderful experiences as well, but at one point of time I was being picked on.

Question: Please talk about some of the paranormal experiences that you have experienced throughout your life.

Answer: As I got older and started actually paying attention to what was going on around me, I realized that I could sense when there was a threatening, dark or evil (however you want to say it) presence that I may pick up on. I don't think that's a "unique" ability, I believe we all have it, we just don't always acknowledge it.

One night I was home alone, and I felt very nervous and scared, so I slept with the hall light on….I was laying in bed and felt like something was wrong, I opened my eyes to a HUGE black shadow standing over me. Very demonic in form and it was reaching for me. I could see the form so well because it was perfectly back lit by the hall light. I immediately turned on my light and of course it was gone. I began to pray (I have a very strong faith in God) and I commanded it to leave my house and leave me alone. The house was immediately calm and so was I. I have had many experiences like that but more just feeling the evil around me, messing with me and it can be nerve wracking at times. I refuse to fear it and I fight it, I won't be messed with.

For a more pleasant experience…As I mentioned before I lost my father. We were very close (as I am with my parents) and he literally died in my arms as I promised he would, (he had cancer). I kept telling him how I loved him, as he was in his last moments and everytime I did he took another breath, so my mom told me I needed to quit doing that and let him go. So that's what I did and he took his last breath. A couple days later I arrived back in AZ with some stuff of his that I kept. I was sitting alone in the living room and I heard 3 distinct knocks on the door leading to the garage. No one uses that door, but my Dad always used it to go in and out, when he lived there. I opened the door and there was no one there. A few days later I was sitting with a friend in the living room and again and heard the 3 distinct knocks. I ignored it, waiting to see if she heard it also. Sure enough she said "Noel there's someone at your door." I said there wasn't and she didn't believe me so we went to the door and opened it and there was no one there….I said hi to my Dad and asked him too be cool, because he was scaring my friend (and he always loved to scare people).

One time I was working an overnighter at a home for adults with D.D. My staff told me the house was haunted, but I took it with a grain of salt until that night. I was in the office when I heard a blood curdling scream, something out of a horror movie. I ran through the house and checked on everyone and they were all sleeping. When I got back to the office there was that wicked feeling again and I could smell sulfur. I confronted it for the better part of 2 hours off and on. I was pissed because it wasn't just me getting messed with, this entity was also messing with my clients and putting them at risk. It eventually left and no one ever had experiences in that house again.

Question: Why do you think that paranormal activities are part of your life?

Answer: I honestly don't know.

Question: Do you think that the paranormal activities that you experience have something to do with your creative energy that you exert with your band Ash Black?

Answer: Possibly, I've never really thought about it. But my music is definitely my outlet. I write all the lyrics (for the most part) and they are based on personal experiences from all kinds of things. Our song "Fear" was written about the time in my life before I chose not to be scared of the paranormal and had a lot of nightmares and such.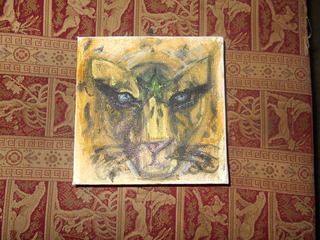 Question: Does the band Ash Black have a website? How can someone contact you?

Answer: www.myspace.com/ashblacklist

Question: On a personal level, can you tell me about your recreational activities and hobbies besides playing in a band and ghosthunting on the side?

Answer: I like to work out with my mom, it's good "mommy and me" time. I LOVE cartoons and collecting them on DVD. My favorite it is to sit in bed with my hubby and 2 cats and watch some "Superfriends"!

Question: You have some unusual tattoos, can you tell me what some of the tattoos represent?

Answer: I have one for my Father with a Columbian Red Tail boa and a black panther, we are a family of animal lovers and one point we had like 50 different kinds of snakes including the boa who was our favorite. Her name was Simon. I got one of a drunk turkey, yes I said turkey, with my grandfather's name underneath "Virgil" He like to drink Wild Turkey. And course I have some of my favorite characters: Scooby Doo, Mickey Mouse, The Flintsones and The Jetsons. That's just a few.

Question: This ends the interview, any words of wisdoms to our readers?

Answer: Fear is a natural reaction to what we don't know…but we can choose not to let it control us. Face your fears, you'll be stronger for it.

Note: Noel is a HPI Paranormal Investigator-in-training, tonight on Sept 11, 2009 is her first investigation with HPI. Good luck Noel.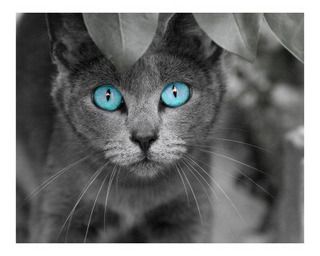 DELILAH BY DEANNA JAXINE STINSON:
Delilah is a one year old cat. She is a medium-haired deep gray with a white heart on her chest and blue eyes. She lives in a fabric shop in Paris, France that specializes in expensive lace. At night she is free to wander the city (also during the day if she spots a rat or just gets bored she will leave.) When she smells fish she goes into a trance and wanders off she can't help herself and she has gotten into many predicaments this way. Her favorite joy is to sneak past the guards at the Eiffel Tower and go to the top where she likes to watch the birds and the people look through the goggles that take coins. She also enjoys a good picnic but only on expensive fabrics. Delilah is a dreamer and is constantly fantasizing adventures in faraway places and has adventures of her own every day in Paris, France.
One day she stopped a thief from stealing wallets and purses by tripping him in front of her favorite guard. Sometimes he sees her and lets her slip by as long as she brings him a coin or a feather. Delilah's owner is a single woman and dates a lot of men who take her on trips for weeks at a time. Delilah has sometimes followed the men home from the shop to check their activities and she lets her owner know how she feels about them. Delilah is a very polite kitty who is also very clever.

Paul Dale Roberts, HPI Esoteric Detective
aka The Demon Warrior
Halo Paranormal Investigations (HPI International)
https://www.facebook.com/#!/groups/HPIinternational/

Email: pauld5606@comcast.net
Paranormal Cellular Hotline: For Investigation or Advice: 916 203 7503